"I DON'T HAVE ANY RULES,
BECAUSE I WOULD ONLY BE BREAKING THEM"
iris apfel
RULE 1: navy & black don't go together.
It makes no sense to me that this was ever a fashion rule, as blue and black go together like peas and carrots. Just make sure there is enough colour variation between them to differentiate.
RULE 2: brown & black don't go together.
Because they are both neutrals, they actually go together perfectly.
RULE 3: don't wear red to a wedding.
I don't know if this was a rule because red is a "sexy" colour or because you might steal attention away from the bride; either way, those days are gone. Wear any colour you like (except white)!
RULE 4: you must own a little black dress.
Don't buy a little black dress just because every fashion column ever written told you to. More of a pants girl? Change up that closet must-have to a sleek pair of black dress pants.
RULE 5: don't mix busy prints.
One of my favourite fashion revolutions over the past few years has been the introduction of mixing prints. If you're not quite sure how to do it without looking like a crazy bag lady, read
this article
.
RULE 6: bright lipstick is for nighttime.
False. Bright lipstick is for All The Time.
RULE 7: take off a piece of jewelry before you leave the house.
If you like blinging it up and wearing tons of accessories, who can tell you not to? You could be the next Iris Apfel.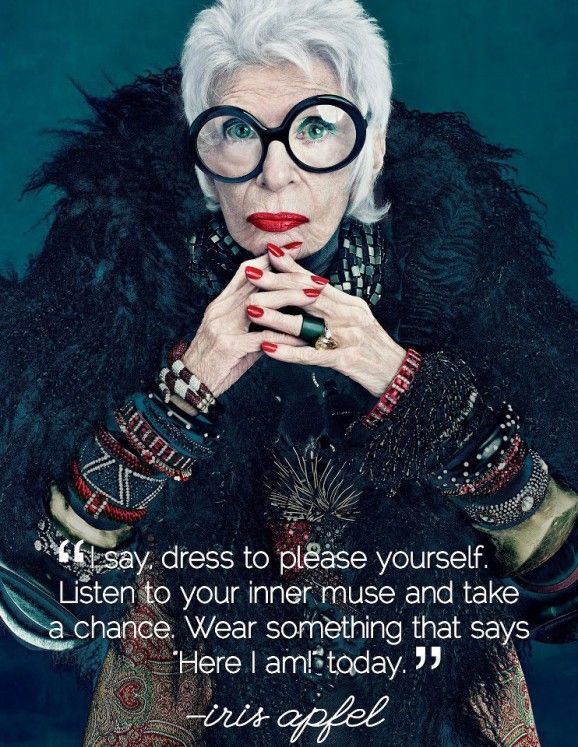 RULE 8: high heels + shorts = trashy.
It is possible to mix high heels and shorts so they look cool and polished. The trick for this is to make sure you have at least one loose element to your outfit (a loose shirt with fitted shorts, or vice versa).
RULE 9: only one bold colour should be worn at a time.
A wonderful new trend became popular a few years ago called colour-blocking, and it was a huge step for the world of fashion. It is no longer a faux pas to wear bright colours together.
RULE 10: menswear is for men.
The key to rocking the menswear trend is keeping it simple - for example, pair fitted dress pants with a blazer and a pair of heels or oxfords. Or why not introduce a tie or a bow tie?